I've Signed My FSSA. What Happens Next?
Congratulations, you've signed your FSSA! Welcome to the Red Stag Fulfillment Family!
Here's what happens next:
You'll receive an email outlining the Onboarding process where you'll be asked to provide the following contact information:

Operations
Technology Integration
Accounting

Our Onboarding team will send specific forms to each contact, and once those forms are have been completed, they will use that information to configure your account in the Red Stag operations and support portals.
We'll contact you to schedule a formal handoff call from our Business Development to Onboarding teams, and you'll be introduced to your Onboarding Specialist.
Your Onboarding Specialist will conduct a system walkthrough to explain our operations and support portals. They will then help you coordinate a series of test orders to ensure that your integration is functioning as expected.
After your first inventory shipment arrives and you start shipping with RSF, we'll review your account for approximately 30 days to make any final adjustments.
Lastly, your Onboarding Specialist will schedule a final handoff call to introduce you to your Account Manager who will be your main point of contact from that point on.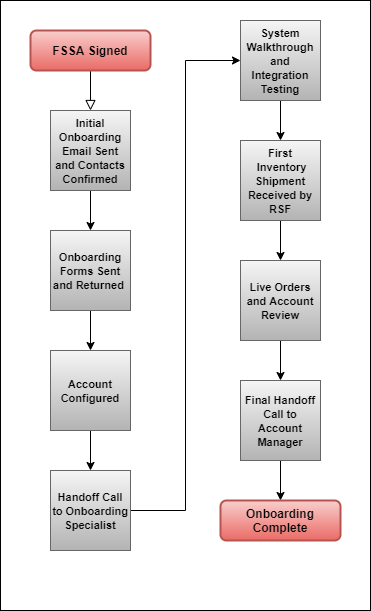 ---
---